Masud Khan
An introduction to his poetry
March, 2010

Kaurab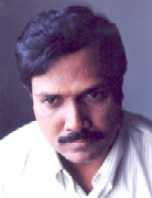 Masud Khan (b. 1959) is a poet, writer, and translator who emerged as an important poet in the 1980's, mostly supported by counter-cultural little magazines. Over the past two decades or more his poetry & essays have featured in magazines in Bangladesh, India, USA, UK, Belgium, & Canada. Sajjad Sharif writes about Masud - "the bifocal he wears partly artifies scientific outlook and partly the magical. A constant concertedness that arteries into and connects the sound & smell of nature and history, myth and modern reality, tying up the marginal with the whole, historical time and its loose ends, becomes the strongest descriptor of his work. The poetic language he uses is also multifarious - "tatsama" (sanskrit root) words are often paired up with vernacular or colonial English, a constant slippage of nouns and adjectives shining up old-fashined sentences. In the end, language sets up like trap a network of sound. A love for the epic form is another interesting character of Masud's verse - an epic, both short and prolonged, installed on the face of history & geography, producing in the end, a poetry of a timeless space that knows no political or cultural boundary." Masud Khan's poetry has appeared in a number of anthologies including Language for a New Century: Contemporary Poetry from the Middle East, Asia, and Beyond (Norton Anthology, New York/London), and Padma Megna Jamuna: Modern Poetry from Bangladesh by Foundation of SAARC Writers and Literature, New Delhi, India. He has, till date, authored three volumes of poetry: Pakhiteerthadiney (On the Day of Birds' Pilgrimage), 1993; Nadikule Kari Bas (We Do Live by the Rivers), 2001 & Saraikhana O Harano Manush (The Inn and the Missing Men), 2006. He received the Bogra Lekhak Chakra (Bogra Writers' Circle) Honour for Poetry in 1994. Presently a resident of Toronto, Canada, Masud Khan works as an electrical engineer.


Poems :

MANKIND (Manushh)

Where do I hold this image?
When for the first time in that acrid mid-day
A listless burglar sat
With a half-rotten apple in hand
Under the Ashwattha tree;
And behind him, a snake spreading its hood.

Ashwattha - A large tree with thick trunks abundant in South Asia

MOTHER (Maa)

In the dusty afternoon,
Far away, near the horizon,
There, under the open sky is lain
My mother.
Of interlocking waves and smells of grass and Dettol her bed is made.
A tube in her nose—oxygen—saline in the arm—catheter—
Ah! how she is getting entangled
In reeds and weeds of plastic and polythene!

Centering her bed, there prevails
A huge haze of unreal ambience

It seems, after a long time, dusk is wafting down on earth again.
And a few birds and bugs
With brisk spontaneity,
Amateurish musical sense,
And obscure mourning rites
Are hesitantly seeking refuge in that plastic hedge,
Under the shade of ancient matriarchy
That has sprouted along the horizon cleft.


PROGRESSION (Pragati)

On top of an anthill by the ocean
There raises its head
An immaculate, ghostly lighthouse.
Hypermodern ghosts emanating light.
A dark ship wrapped in an utterly black yashmak
Follows that light
To find its way into the harbor
Like a beast doped with opium
The ship rushes on in dark, outrageous speed.



CUSTARD APPLE (Ataphal)

This is that fruit
That miracle
Hanging like an emblem over many a shadowland.
It looks a bit like a green-colored grenade
Or, at times, like a heart too—
Interior filled up with the tantalizing smell of gunpowder,
And its taste—inexplicable!

The place where we used to live in childhood, there was a haunted house nearby, full of ancient trees and creepers and moss. One evening, starting up from his siesta and in the manner of a detective protagonist, my grandfather took me with him to that house. A forlorn place swaying in the breeze. From among a cluster of trees he pointed to me one. It was an ordinary tree with a few fruits hanging from it, which looked like grenades to me. It was the mewa. Custard-apple mewa. My grandfather said — These are fruits of paradise. The only heavenly fruit allowed to be exhibited on earth. Look at them closely and keep it quiet. No sooner had he said this than our bodies shuddered like fire-crackers. Engulfing me along with my thrills, my grandfather's pox-spotted fair body and dusk-colored long beard blew in the sporadic draft.

The sun is setting on the other bank of the clear-streamed Harabati. On that horizon, a distant banana plantation begins to appear. A guerrilla boy emerges from the plants and wanders all alone as if in a fairytale—
Without his cohorts, cut off from his group forever,
Whirling about and always getting lost,
A guerrilla boy all by himself
With a custard apple in his right hand, a grenade in his left,
On the left ear a little ring, a Kalashnikov hanging from the shoulder,
Wearing a steel-colored jacket, a bullet necklace on the neck
With his heart in the middle—all kept in place with a lot of pins.

In the distant, sunset-smeared banana plantation, an outlandish guerrilla boy.
Talks nimbly—in precise terrorist terms.
There is neither other language nor idiom among the vegetation than this—
And against terror—frequent, wonderful little acts of terror...
Having accomplished each one of them, cupping his hands he drinks water
And whirling about and getting continuously lost
This guerrilla boy becomes a solitary terror artist.

And this is that fruit
That miracle
Hanging like an emblem in many a shadowy land
The sunset-polished, dismal grenade fruit
With the tantalizing smell of gunpowder inside,
And a taste—inexplicable!

The grenade, on the other hand, is a wonderful earthly fruit,
A bit tangy, but still a delicious earthly fruit,
Hanging like an emblem in many a sunny land,
Full of the addictive smell of an exotic fruit inside.
This evening the mingled smell of custard apples and grenades are driving alien forests insane.
An outlandish guerrilla boy
With a custard apple in his right hand, a grenade in his left,
And his heart in the middle. Thus balancing the fruits
He staggers across that perilous bridge on the road to heaven,
Knocks at heaven's gate with news of a yet more exotic, symbolic, earthly fruit...
A long way behind him, the queued up pilgrims of virtue wait for their turn,
They are an alarmingly long way behind...

This is that fruit
That miracle
Hanging in many sunny lands of the earth like an emblem.


THE LOST SPACESHIP (ekaTi haariye Jaaoaa nabhoJaan)

A spaceship —
Reckless and forgetful—in nature and form —

Missing all trodden and untrodden trails of the sky,
Those important assignments, forgotten without trace,
It grows in unknown realms of space,
Drifting weightlessly away
Alone—for days—
Directionless, like a stray girl.

Now, after such a long time
It seems pretty pointless
To try and return.

But it may come back someday,
Lacking information or purpose—
Blabbering, maybe, a nonsense verse or two—
A loser, goner, redundant.

The sudden appearance
Of the unmanned spaceship
Will surely embarrass
The scientists on earth

As parents are somewhat taken aback
When a long lost daughter unexpectedly returns
Grown up, and a bit wild...


TALE OF A LONE GRAVE (ekaTi kabarer upakathaa)

A lone grave burning in scorching mid-day sun.
"22 Paush 1382" the epitaph reads.
Some monk builds a monastery deep into the earth
With radiant blood and sharp intellect.

The ignoramus explores the realm of the dead for relics.
Arched abode, arched quest, arched plain—
Caressing the tombstone, a calendar's ashes blow away.
Stupid man, those constructions are results of bad engineering.

White and grey—compositions in white and white.
A man divided into disproportionate pieces—
Kissing the tombstone, a calendar's ashes blow away.
A man transformed into flint.


22 Paush 1382 - 22nd day of Paush (a winter month), Bengal Era 1382
TUNNEL (Taanel)

Raw waters flow over its back.
To the flow a glacier dips.
Plankton and carbohydrates consumed
By the bottom of a moonstruck ship.

Liquidity condensates slowly,
Becomes solid, unbearable mass,
The sky gives in to gravity—
Such heft in acceleration and solution! It's so tenacious!

The Tunnel is Death's second self.
It's a hideout for missing men.
While God resorts to mathematics,
All come home but one.

Under the skin of the Orange river people
Increases melanin,
Red rebellion blossoms in their capillaries,
And they tear away civilization's kaupin.

Ignorant of all this, the Tunnel understands
Neither the moves nor the motives of blood—
Can't you hear, O Tunnel, the hue and cry
For the missing ones under the sod?

A gawky bumblebee will enter
Not Death, but the Tunnel—
A demiurgic self will carry on
With fire and plague for fuel.

Beast-naked, the sages seal
Thirsting ears with restless holler;
From tomorrow, I shall cease to be,
From tomorrow, I'm a Tunnel-dweller.

kaupin - Loincloth used by Indian mendicants.


All poems translated from original Bengali by Subrata Augustine Gomes
-----X-----