BUDDHADEV BOSE
An introduction to the poetry of Buddhadev Bose
June, 2008

Pat Clifford

Buddhadev Bose (1908-1974) would have been 100 this year. Buddhadev Bose was, not only a prominent and prolific poet, but essayist, playwright and critic. Bose was the founding editor of the first Bengali-language poetry journal called Kavita, or Poetry. In India, he was widely seen as the literary successor to Rabindranath Tagore, the first non-European to win the Nobel Prize for literature.

Bose was a major organizing force in 20th century Bengali poetry. He was a founding member of what is called the post-Tagore modernist (or adhunik)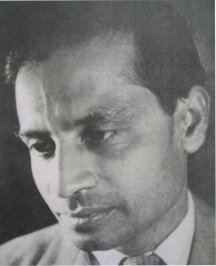 generation—a Bengali modernism which reflected a shift away from Tagore's idealism toward more urban and secular themes. they were cosmopolitan and heavily influenced by Western literature, Bose particularly with Pasternak, and later Baudelaire and Holderlin. Politics was an inescapable reality for Bose's generation. He was a member of several left-leaning groups in the 30's and 40's, but later felt that "what had been conceptually liberal turned into various hardened ideologies." (Dyson). Frustrated by poets that lapsed into what he felt was "political cacophony." (AGG, 25) he had a growing sense of disillusionment, then frustration, with some Bengali poetry of the late 1940's and beyond. On one hand seen as hard-working and sincere, he also had the reputation for being uncompromising and stubbornly stuck in his ways.

Bose was not unaware of the tension concerning spiritual matters between Bengali and Western writing. In his defense of Tagore against Pound he wrote: "The only defect Pound notices in him is that his poetry is 'pious'. This is natural, for in Europe poetry and religion separated long ago; … In India, this divorce has taken place only recently; it is still a common notion with us that the poet is a religious man…" (AGG 23)

He distrusted the "poetry of the moment" and longed for a verse that was "conceived in the soul" (AGG 68). His poetics valued a perfection of craft and intentionality and included a distrust for political content and formal experimentation.

He had a deep passion for Bengali literature; and to spread awareness and appreciation for it, he sought encouragement for the frustrating task of translating his work into English. Although he was fluently bi-lingual and heavily influenced by Western literature, he felt that self-translation into English was a nearly absurd task. He wrote to George Oppen at one point that he did not, "believe that foreigners can use the language of poetry, and the best we can do will remain pale approximations." A collaborative effort with Oppen would result in two transcreations, which appeared in Oppen's book, The Materials.

Buddhadev Bose, taught in the States from 1963 to 1965. He returned to India to face what was called the Hungryalist Movement in Bengali poetics a force that was more akin to American Beat poetry than Bose's post-Tagore modernist (or adhunik) generation. He eventually found an English translator in Clinton Seeley, a University of Chicago Peace Corps alum, who meticulously translated Bose's novel, Rain Through the Night—a novel brought up and acquitted of obscenity charges in 1969.

Bose was an uncompromising, tireless and versatile writer whose efforts helped lay the foundation for Bengali poetry publishing and cross-cultural exchange.

BUDDHADEV BOSE TIMELINE

1908: Buddhadev Bose was born on November 30 in Kumillah, East Bengal (now Bangladesh).

1923 – 1931: Studies at Dhaka University

1937: From 1937 until 1966, Bose lived at 202 Rashbehari Ave. in Kolkata. This address was dubbed Kavitabhavan, or House of Poetry, the same name as Bose's press, which published Kavita magazine and other works.

1941: Death of Rabindranath Tagore

1947: Indian Independence; East Bengal becomes East Pakistan and separated from India.

1949: Publishes Ezra Pound's Confucius: The Unwobbling Pivot and The Great Digest in India through Kavitabhavan.

1954: Bose in U.S. teaching at Pennsylvania College for Women in Pittsburgh. Visits Henry Miller in Big Sur in April.

1956 – 1963: Founds then leads the Department of Comparative Literature at Jadavpur University, Kolkata.

1957: Buddhadev Bose publishes Language, Poetry and Being Human: A Protest Against the Reports of the Government's Language Commission defending the Bengali language against Hindi being made the national language. He argues that, while other languages can be useful for everyday life, true poetry can only be written in one's mother tongue. (Dyson, 177)

1961: Kavita magazine ceases publication after twenty-five years due to a growing frustration over the direction of Bengali poetics and the loss of his close friend, colleague and fellow poet, Sudhindranath Datta, in 1960. (DBS)

1963 – 1965: Buddhadev and Protiva Bose in the U. S.. Buddhadeva teaches first at IU in Bloomington, IN , then at Illinois Wesleyan University in Bloomington, IL.

1969: Prosecution on obscenity charges for Bose's novel, Raat Bhore BrishhTi (Rain Through the Night), a frank account of marital infidelity.

1972: Protiva, disabled due to a bad reaction to a vaccine.

1974: Buddhadev Bose dies of a stroke on March 17th.


Some of his books (poetry) include –

Bandir Bandanaa (1930)
Kankaavati (1937)
Draupadir Sharee (1948)
Shiter Prarthana: Basanter Uttar (1955)
Je Andhaar Alor Adhik (1958)

He wrote a number of novels: Laal Megh (1934), Raatbhare BRishhTi (1967), Paataal Theke Alaap (1967), Golaap Keno Kaalo (1968). Short story anthologies include Abhinay, Abhinay Nay (1930), Rekhaachitra (1931), Bhaaso Amaar Bhelaa (1963). Bose was also a playright. Notable plays include Tapasbee O Tarangini (1966) and Kolkatar Electra O Satyaasandha (1968).

Still considered by many contemporary poets as the most significant Bengali poetry-essayist, Bose's essays are anthologized in Kaaler Putul (1946), Saahityacharchaa (1954), Rabindranaath: Kathasahitya (1955), Shbadesh O Sangskrti (1957). Travelogues and memoirs include - Hathaat Alor Jhalkaani (1935), Sab Peyechhir Deshe (1941), Jaapaani Journal (1962), Deshaantar (1966), Amaar Chhelebelaa (1973), Amaar Jouban (1976).

Buddhadev Bose was at the same time a prolific translator. His translations include Kalidaaser Meghadut (1957), Charles Baudelaire: Taar Kavita (1960), Rainer Maria Rilker Kavitaa (1970) etc. He also wrote for children.

A fair amount of his articles are in English, An Acre of Green Grass being the most discussed book.
In 1967, Buddhadev Bose received the Sahitya Akademi Puraskar (Academy of Indian Literature Award) for his play - Tapasbee O Tarangini. In 1970, the Government of India awarded him the "Padmabhusan" . He received the Rabindra Purashhkar (Rabindra Award of the state government of West Bengal) posthumously for his book - Sbaagata Bidaay (1974).
Poems :

TO THE SEASONS

Having overcome the accidents of Winter, Summer, Spring, and the Rains,

I welcome at my heart's evening the void, the null, the absolute zero

No longer prey to the whimsy of the seasons, I rejoice
In freedom from function,
liberty from thought, lightness of death

No longer wronged by the contingent, the wails of the grieving,
Laughter and shrieks of the whirling months, I yield at most
To the malaise of old age, to the body's loss of humors

Markings in a dead script on a calendar no longer in use

In a ruined palace my moving finger points to rusty locks hanging
From rows of the chained doors of long deserted chambers

Dimmed is the former chiaroscuro, my heart is monochrome
A late autumn landscape with gray fog shading into a pallid moon

In my ears the ageless sea confirms what I already know
I have for company only the void, the vacuum, the zero
SONNET, 3 A.M

Only the private is holy; the soft light
On the yellowing page of a book, the print
Legible as stars on the open page of the sky
Or the languid letter you write at midnight to a faraway

Friend, stern only to timorous sleep. Do you think
Jesus was director of a philanthropic foundation?
Or Buddha the babbling, balding, amiable president of an NGO?
Beyond the incense and flywhisks of those

Gaunt keepers of salvation, their Lofty Holinesses, the Most Ancient and Supreme Guardians of the Truth,

They have escaped their disciples, cool
as clouds.
There is more in half an hour's indolence
Than in galloping away after the grail.

SONNET FOR WINTER, 48

There is nothing out there; draw the curtain close.
Those are only to lull you -- grass, dirt, puddle, sky.
Not that your potted plant, pet songster are any less false.
Fall into yourself, sink into your own black hole.

Objects are decoys, safer to be deaf as stone,
No Tao can teach you what you don't already know.
As Sinbad with his load of old man of the sea
Get used to this daylong donkey's toil of crafting rhyme.

Winter casts its anchor; what need to wait for more?
Coast and seaport come to life on an once immaculate wall;
Hours, gongs, bells, changes merge into one.

Flinging away its cloak of light and moonlight,
The earth slips into obscurity so that you can create
Your own unmoving sun and earth and moon on the page.


STILL LIFE

Golden apple, is there a reason why you are?
After the kiss, striking the air with luster?
Or an aspara's rounded breast, darkened with the rapture
And held in the hand of a god whose sight is gone?

So much, yet just begun! This autumn seems unending.
Enough! But more. Even the skin is meshed
In eager sweetness. This glad befriending
Works through the loss undiminished.

And is that all? So think the sleepy ones.
But when some lust-encumbered eye
Sees through bowl and orchard, tears across the veils,

And in a strange spell of light, becomes
In you a forest, a spacious sky—
We too then wish we were something else.
A STRANGER

Dead are those girls - had breasts like water-lilies;
And the pond so cool with grass and moist snails-
Small; - but beyond knee-deep water was the storm.

Dead the friends; - evenings no longer deepen
Spacious and slow, in glad verandahs,
Nor the talk is tightly tossed, like rafts upon the waves -
A game; - but leading upto voyages.

And the animal's cave is closed. No bribes can open the door.
Reduced to a worm is the tiger's redness.
No more the warm wet flow of the stupid child.

Only while the rain
Blurs the trees where witches shake their hair,
And the walls of coupling cats grows sharp like needles-
At midnight, upon the pavement
Is left a heart,
A stranger
A raw lump of feeling slow to learn.

All poems adapted/translated from original Bengali poems by the poet
Sources

Bose, Buddhadev. An Acre of Green Grass. Calcutta: Papyrus, 1948. (AGG)

Bose, Buddhadev. Selected Poems of Buddhadeva Bose. trans. Ketaki Kushari Dyson. New Delhi: Oxford University Press, 2002. (Dyson)

Bosu Singh, Damayanti. E-mail Interview with Pat Clifford. February 17, 2008. (DBS)
-----X-----