Malay Roy Choudhury:: Hungryalist Movement
An introduction to Malay Roy Choudhury's poetry
Aryanil Mukherjee

Malay Roy Choudhury (b. 1939) grew up in the chaotic township of Patna. He did his post-graduation in 1960, gave up a Ph.D. research half way through for poetry, dissent and freedom and moved to Kolkata to take up the leadership of the famous Hungryalist literary movement. The impact provoked powerful hostilities. He was prosecuted for his publication of the poem "Stark Electric Jesus" in 1965 (his typewriter was seized by Calcutta Police), lost his job, earned the wrath of his friends and relatives, and was perpetually scandalized by a section of the media. Life soured miserably forcing Malay to quit writing in 1967. He began to write again in 1983 and emerged as a major Bengali poet of the Indian sub-continent. Also as a backlash of the sixties - a decade of incendiary iconoclasm, he soon became a legend.
Malay has written more than forty books, including novels, drama, social polemics, translations of Allen Ginsberg, Federico Garcia Lorca, Salvador Dali, Jean Cocteau, Blaise Cendrars, Paul Gaugin, William Blake, Dharmavir Bharati and others. A fair amount of academic research has been done on his work. Several little magazines have published special issues on Malay.
During his Indian sojourn, Allen Ginsberg struck great friendship with Malay and his older brother Samir Roy Choudhury and lived in their Patna house for several months. These were the formative years of the Hungryalist Movement. While Allen cast a certain Beat influence on the Roychoudhury brothers, they too, were instrumental in creating profound cultural influence on Ginsberg. Allen Ginsberg's Indian Journal bears ample proof of that although he fails to mention the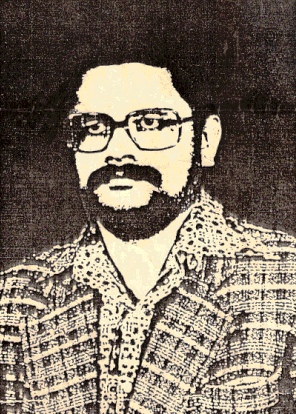 Roychoudhury brothers in the book. Touched by the raw and fiery poetry of the Hungryalist poets, Ginsberg brought back to America in 1962-63 translations of a whole bunch of Bengali Hungryalist poets which Lawrence Ferlinghetti published later in a special issue of the City Lights Journal. A special issue of Salted Feathers 8/9 in 1967 featured poetry by Malay Roy Choudhury as well as documents and poetry by other members of the Hungryalist Movement. City Lights Journal No. 2 (1964) and Kulture No. 15 (1964) also contained their manifestos. Allen also helped Malay connect with several American writers such as Carol Berge, Howard McCord and Jerome Rothenberg who had voiced their protest against the arrest of Malay Roy Choudhury for charges of literary obscenity. Time Magazine published an article about these poets in a 1964 issue. Sandip Dutta's Little Mag library in Kolkata, Dhaka Bangla Academy and the Northwestern University (Illinois, USA) have archives of Roy Choudhury's "Hungry Literary Generation" publications.

An immensely rare collection of letters written to Malay Roy Choudhury by notable litterateurs from around the world including Allen Ginsberg, Octavio Paz, Lawrence Ferlingheti, Robert Kelly, Howard McCord, Margaret Randall, Carol Berge, Daisy Aldan, Ameeq Hanfee, Gordon Lasslett, Dan Georgakas, Carl Weissner, Rajkamal Choudhury, George Dowden, and Ida Spaulding have been compiled by Gargi Ghosh Dastidar, a Hungry Generation researcher.

A 1964 sample letter from Allen Ginsberg reads like this -

=========================================================
Allen Ginsberg, 704 East, 5th Street, New York

28 September, 1964

Dear Malay,

I saw clippings from BLITZ, Sept 19, 1964 p6 and also I think Calcutta STATESMAN 17 September 1964 that you were arrested as well as Samir and two boys named Ghosh whom I don't know, for your HUNGRY GENERATION manifestoes. Are these the same as were printed in the issue of KULCHUR#15? As soon as I read about it, I racked my brain what I could do to help, and so today wrote a whole bunch of letters to the following:-

A.S.Raman, Editor, Illustrated Weekly, Dr. Dadabhai Naoroji Road, Bombay.

Sharad Deora, Editor,Gyanodaya, 18 Brabourne Road, Calcutta.

Abu Sayeed Ayub, Editor, Quest ( sent message to him indirectly), and member of Indian Congress for Cultural Freedom.

Shyam Lall, Editor, Times of India, New Delhi.

Khushwant Singh, novelist and member of Congress for Cultural Freedom, 49 East Sujan Singh Road, New Delhi.

I also wrote to Jyoti Dutta and phoned Lita Hornick of KULCHUR. I asked them, the Indians above all, what they could do to help you, suggested they activate the congress for Cultural Freedom as this sort of thing is the proper activity of the Congress and Quest magazine, and told them that the manifestoes were printed here in CITY LIGHTS JOURNAL and KULCHUR, and were not obscene. So the whole mess was scandalous bureaucratic illiteracy. Please if you need literary help or advice do try to contact these people for support. And in addition perhaps ask for advice/help from Mrs. Pupul Jayakar, 130 Sundar Nagar, New Delhi---she was our protectress in India, we stayed with her, she's a friend of Indira Gandhi and others. I also notified Bonnie Crown here in New York, the Asia Society, 112E 64 Street, NYC---she commissioned poetry to be translated by Sunil and others and that pack of poems plus your rhythms etc. will be printed together by CITY LIGHTS. She can send you a letter on her official stationary saying your manifestoes are known, published and respected in US and not considered obscene. I will also enquire of Mr. S.K.Roy, the Indian Consul General here in New York who I do not know what he can do at this distance.

If there is anything you want me to do let me know. Write me and let me know what the situation is and what is the cause of the trouble. In judging from BLITZ I suspected jealous ideological Marxists or something. Are you ruined at the bank?? I hope not. Regard to your family. Get the Congress for Cultural Freedom to supply you with a good lawyer who'll take no fee. If the Indian Congress doesn't cooperate, let me know, we'll explain to the European office. Who are the Ghosh brothers? The manifestoes on prose and politics are pretty funny. I thought they were a little literary-flowery, but they MUST HAVE HIT SOME MENTAL NAIL ON THE HEAD. Good Luck.

Jai Ram

Allen Ginsberg

================================================================

The complete archive can be found here

Here is a Photo-Text Album on the Hungryalist Movement


Some poems of Malay Roy Choudhury spanning both phases of his literary career, hungryalist and post-exile, are presented here.
Selected Poems :: Malay Roy Choudhury
Stark Electric Jesus

Oh I'll die I'll die I'll die
My skin is in blazing furore
I do not know what I'll do where I'll go oh I am sick
I'll kick all Arts in the back and go away Shubha
Shubha let me go and live in your cloaked melon
In the unfastened shadow of dark destroyed saffron curtain
The last anchor is leaving me after I got the other anchors lifted
I can't resist anymore, a million glasspanes are breaking in my cortex
I know, Shubha, spread out your matrix, give me peace
Each vein is carrying a stream of tears up to the heart
Brain's contagious flints are decomposing out of eternal sickness
Mother why didn't you give me birth in the form of a skeleton
I'd have gone two billion light years and kissed God's arse
But nothing pleases me nothing sounds well
I feel nauseated with more than a single kiss
I've forgotten women during copulation and returned to the Muse
Into the sun-coloured bladder
I do not know what these happenings are occurring within me
I'll destroy and shatter everything
Draw and elevate Shubha into my hunger
Shubha will have to be given
Oh Malay
Kolkata seems to be a procession of wet and slippery organs today
But I do not know what I'll do now with my own self
My power of recollection is withering away
Let me ascend alone toward death
I haven't had to learn copulation and dying
I haven't had to learn the responsibility of shedding the last drops
after urination
Haven't had to learn to go and lie beside Shubha in the darkness
Have not had to learn the usage of french-leather while lying
on Nandita's bosom
Though I wanted the healthy spirit of Aleya's fresh chinarose matrix
yet I submitted to the refuge of my brain's cataclysm
I am failing to understand why I still want to live
I am thinking of my debauched Sabarna Choudhury ancestors
I'll have to do something different and new

Let me sleep for the last time on a bed soft as the skin of
Shubha's bosom
I remember now the sharp-edged radiance of the moment I was born
I want to see my own death before passing away
The world had nothing to do with Malay Roychoudhury
Shubha let me sleep for a few moments in your violent silvery uterus
Give me peace, Shubha, let me have peace
Let my sin-driven skeleton be washed anew in your seasonal bloodstream
Let me create myself in your womb with my own sperm
Would I have been like this if I had different parents?
Was Malay alias me possible from an absolutely different sperm?
Would I have been Malay in the womb of other women of my father?
Would I have made professional gentleman of me like my dead brother
without Shubha?
Oh, answer, let somebody answer these
Shubha, ah Shubha
Let me see the earth through your cellophane hymen
Come back on the green mattress again
As cathode rays are sucked up with the warmth of a magnet's brilliance
I remember the letter of the final decision of 1956
The surroundings of your clitoris were being embellished with coon
at that time
Fine rib-smashing roots were descending into your bosom
Stupid relationship inflated in the bypass of senseless neglect
Aaaaaaaaaaaaaaaaaah
I do not know whether I am going to die
Squandering was roaring within heart's exhaustive impatience
I'll disrupt and destroy
I'll split all into pieces for the sake of art
There isn't any other way out for Poetry except suicide
Shubha
Let me enter into the immemorial incontinence of your labia majora
Into the absurdity of woeless effort
In the golden chlorophyll of the drunken heart
Why wasn't I lost in my mother's urethra
Why wasn't I driven away in my father's urine after his self-coition
Why wasn't I mixed in the ovum-flux or in the phlegm
With her eyes shut supine beneath me
I felt terribly distressed when I saw comfort seize Shubha
Women could be treacherous even after unfolding a helpless appearance
Today it seems there is nothing so treacherous as Woman & Art
Now my ferocious heart is running towards an impossible death
Vertigoes of water are coming up to my neck from the pierced earth
I will die
Oh what are these happenins within me
I am failing to fetchout my hand and my palm
From the dried sperms on my trousers spreading wings
300000 children gliding toward the district of Shubha's bosom
Millions of needles are now running from my blood into poetry
Now the smuggling of my obstinate leg is trying to plunge
Into the death-killer sex-wig entangled in the hypnotic kingdom
of words
Fitting violent mirrors on each wall of the room I am observing
After letting loose a few naked Malay, his unestablished scramblings.
(Stark Electric Jesus is a much mythified poem, included in several poetry anthologies, most notably Poems for the Millenium, Vol. 1 ed. by Jerome Rothenberg and Pierre Joris (1995), first published by Lawrence Ferlinghetti in City Lights, later by Howard McCord (several editions). Stark Electric Jesus is a transcomposition made from the original Bengali poem titled "prachanda boidyutik chhutaar". The publication of this poem brought charges of obscenity against Malay Roy Choudhury and the Hungryalist Movement in 1964. Calcutta Police raided his house and confiscated 21 items including his typewriter. Malay and other Hungry generation poets/authors were arrested. For the next several gruelling months the famous Hungry Generation court case followed. A whole generation of American writers supported Malay and the Hungry Generation Movement by voicing their protest against the Indian Government and legal authorities. Howard McCord, Carol Berge and others published a chapbook with the same title, several readings at St. Marks by young American poets followed aiming to collect small funds that were sent to Malay to help him fight the court case. Although the initial ruling went against Malay and other Hungry writers, they eventually took it to the Indian High Court to win it.)
Wounds

awning ablaze with toxic fire above me
I lie watching the winged blue of this crawling sky
putting down the crushing anger of my suffering
I crossexam my nocturn doubts
pushing a gramophone needle over the lines of my palm
I scan the prophecy

armature on the left turned slag long ago
now eyeflesh twitching in the smoke of malay's burning skeleton
dismantled tempests sweep by at 99mph
uniform queues of wristwathched zombies tattle tradecyclic seine
a swinging bat threatened me in this black dungeon
800,000 doorless jamb stare for eternity over the liquid meadow

16dvn ravens whirl around my torso for 25 years
my bones reel clutching my raw wounds
my peeled fleshblood
flaying my skin I uncover arrogant frescoes of my trap
ageless sabotage inside the body
patrolling darkness in the hemoglobin
I'm deciding what to do with me now
I've inherited emergent vengeance
polished for 6000 years
tugging at man's insensibility
scraping old plaster of my skin
fingernails look magnanimous after the meal
people are returning home on tortoise back
failing to searchout my heart in my body
man training man the fair-spoken codes of war & hospitality

gathering fallen limbs from the torso we've to retreat to
I lie lazily closing both eyelids wrapped in sunflakes
coked reeks conspiring in my veins turned loose
ohh
from the vapour of brain's angry kernel
technicoloured nitrocellulose oozes over dreamlined retina
letters of sympathy heaped against halfclosed futureless door
my black muscles rust
equally true corpses of geniuses & fools
slime simultaneously into earth
each woman is waiting with a conversion chart in her desolate womb
Gandhi & Attila's equichemical blood
streams through my same veins
nothing happens to me
nothing will happen to this earth either
neither could I practice usury like the rest of mankind
nor shoot dice made of human bones

seeds floating in air try to slouch roots
into my unfertile sweatbeads
I dreamt of my failure in Bumghang's apple orchard
I couldn't choose the luxurious comfort of an insect
sleeping in the cushioned kitchen of a corn's kernel
I've been spitting inside my body for the last 25 years
scraping off from mirror's knave mercury
self-savior imprints of my violent face
each & all having a certificate from the burning-ghat doctor
for their performance of duty until last breath

2000 hounds released from out of my skull
haunting me for 25yrs
sniffing the alleys trod by women I advance toward their
amateur abode
my heart-lump split open in terror
when I looked at footprints on dark pavement
sounds of dripping sand have evoked my skinpores
my spineburnt smoke billow through chimneys of skin
ants drag fleshcopses through mothmade clayveins
damn barefoot amid seagulf I proceed
to sullen den of vultures
I've experienced magic simultaneously of food
concealing envious tints of blood & pus
perverse sugarcane brain sucks
liquid philanthropic dirt out of earth
my Dirt my Love my Blood
clouds drift by like pieces of discarded bloodseained cloth
I now recall Bluegirl's sick left tit...
Vibrating with heart's feeble flutter
Life's whacklings are to be endured until death
with a dumb tongue
a blazing mantle hangs in place of my heartmachine
plus-minus signs and compasses with broken needles
stream through my arteries

rifle's dazzling nozzle & diesel-roller sleep
in iron-ore of earth
and stored deep down in zink's brain
newspapers' Yes & newspaper's No
my feet do not realize
I'm controlling their speed & direction
I'm not sure if I'll have to become unworldly
paying excise with an untransferable woman
I gloomed all through the winter forging my own signature
was born not wanting to be born
now without unlacing my shoes
I want to plunge into the glowless dark
everybody is making arrangements for Tomorrow
shoes are having sympathetic polish this evening
only for Tomorrow
yet even circular roads get hold of man's legs
one day or the other
lusting for limbs 303 greased cartouches
stashed in new pineboxes

rush up to frontiers of countries
2510 years after Buddha sprawled on Gandhi-lawn
model-'65 leftover shoes & umbrellas of cop & non-cop clashes
in the warehouse of cocaine & counterfeit money
Indian & Chinese citizens mirth together in ecstasy
I had lifted a 5-paise coin from a blind beggar's palm
I had looted benevolent money of hearse-corpses
Out of parched groin
crossed death-panic on a boat not knowing how to swim
I may be censored I can not be disregarded

(From 'Jakham', a poem that has often been compared with Allen Ginsberg's Howl.)
1965

Chicken Roast

Puff your plume in anger and fight, cock,
delight the owner of knife
smear sting with pollen and flap your wings.
As I said: Twist the arms and keep them bent
Roll the rug and come down the terrace after disturbed sleep
Shoeboots ….rifle….whirring bullets….shrieks

The aged undertrial in the next cell weeps
And wants to go home
Liberate me let me go let me go home.
On its egg in the throne the gallinule doses
Asphyxiate in dark
Fight back, cock, die and fight, shout with the dumb.

Glass splinters on tongue….breast muscles quiver
Fishes open their gills and enfog water
A piece of finger wrapped in pink paper
With eyes covered someone wails in the jailhouse
I cant makeout if man or woman.

Keep this eyelash on lefthand palm...
Blow off with your breath
Fanout snake-hood in mist
Cobra's abdomen shivers in the hiss of femme urination.
Deport to crematorium stuffing blood-oozing nose

In cotton wool
Shoes brickbats and torn pantaloons enlitter the streets

I smear my feet with the wave picked up from a stormy sea
That is the alphabet I drew on for letters.

(Translation of "Murgir Roast")
1988

Preparation

Who claims I am ruined? Since I'm without fangs and claws?
Are they necessary? How do you forget the knife
plunged in abdomen up to the hilt? Green cardamom leaves
for the buck, art of hatred and anger
and of war, gagged and tied Santhal woman
pink of lungs shattered
by a restless dagger?
Pride of sword pulled back from heart? I don't have
Songs or music. Only shrieks, when mouth is opened
Wordless odor of the jungle; corner of kin and sin-sanyas;
didn't pray for a tongue to take back the groans
power to gnash and bear it, fearless gunpowder bleats:
stupidity is the sole faith---maimed generosity---
I leap on the gambling table, knife in my teeth
Encircle me
rush in from tea and coffee plateau
in your gumboots of pleasant wages
The way Jarasandha's genital is bisected
and diamonds glow
Skill of beating upis the only wisdom
In misery I play the burglar's stick like a flute
Brittle affection of the wax-skin apple

She-ants undress their wings
Before copulating
I thump my thighs with alternate shrieks:
vacate the universe
get out you omnicompetent
conchshell in scraching monkey-hand
lotus and mace and discus-bladeLet there be salt rebellin of your own saline
sweat
along the gunpowder let the flint run towards explosion
Marketeers of words daubed in darkness
In the midnight filled with young dog's grief
In the sicknoon of agrasshopper sunk in insecticide
I reappear to exhibit the charm of stiletto.

(Translation of 'Prastuti')
1985

Humanology

I am ready to be mugged O deadly bat come
Tear off my clothes, bomb the walls of my home
Press trigger on my temple and beat up in jail
Push me off a running train, intern and trail
I am a seismic yantra alive to glimpse the nuke clash
A heathen mule spermed by blue-phallus stallion.

(Translation of 'Monuhyatantra')
1986

The Light

I get a thud-kick in pitch dark thick on belly and tumble
Hands tied at the back on damp floor shack to humble
Lights flash on face eyes blind in case I spin
Then lights go off a boot or two rough on chin
I feel blood drips and snail down the lips in trickle
The glare blinks on and off and on and off in ripple
A hot metal rod scalds hard breast broad to snip flesh warm
The lights hem in piercing thin a ruthless swarm
Red eyes get shut in blinding rut my vision erode
Final blackout in grisly rout in elliptic node
I prepare my grit to encounter the hit as a fightback code.

(Translation of 'Aalo')
1985

Objectivity

Regaining consciousness in a trickle
Hands and feet tied and mouth gagged on a railroad track
The silent whole
Shirt and trousers daubed in dew
Whining crickets drone
A rural gloom studded with night-chilled stars
Can't shout as mouth is wool of spew
Ribs and shinbone smitten---not possible to move
Stiff stonechips bite at back
How beautiful is the world and peace everywhere allround calm
A pinhead light is rushing on the route
Piercing the one-eyed dark.

(Translation of 'Pratyaksha')
1986

Dilemma

While returning I'm hemmed in. By six or seven. All
Have weapons. I knew it when I came
Something bad was going to happen. But framed

My mind that first attack would not be from my call.
A mugger holds the shirt-collar and blurts: Want a dame?
Why here? Mama and not in chawl?

I keep my cool, teeth on teeth. Right then a blow on chin
Feel the hot blood lather.
A jerk and I sit down. In my socks I spin.
A stainless knife beams in halogen shadow
Rama inscribed on one side and Kali on other.

The crowd disperses. Power in the name of gods
Not known to all. Why are men jinn
Why don't they love the lver? The six or seven encircling me
Withdraw mysteriously.

(Translation of 'Dotana')
1986

All poems are translated by the poet.
Malay Roy Choudhury's photograph: copyright Kaurab
-----X-----