Contemporary Espanolic Poetry
Subhro Bandopadhyay in conversation with Antonio Gamoneda (2007)
KAURAB

Antonio Gamoneda(b. 1931) is a Spanish poet of great importance. He was born in in Oviedo, Spain. As a young child, shortly following his father's death, Antonio Gamoneda' moved to Léon with his mother. He was three. This is where he still lives.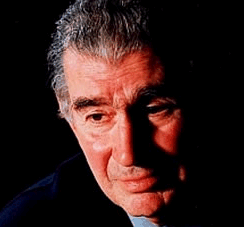 His poetic career began with the book -'Sublevación inmóvil' (1960).Although he belongs to the 'generación poética' of the 1950s, his style broadens the horizon of social realism quite far and above the achievements of generación poética. Hispanic scholars count Edad (1987) as his most important collection of poetry that contains his works from 1947 to 1986. Edad appeared as part of the famous series Cátedra, for which a year later he was awarded the highest Spanish poetry prize - Premio Nacional de Poesía. Of his later books, the most notable are: Libro del Frío (1992), Arden Las pérdidas (2003), Cecilia (2004) and El cuerpo de los símbolos, a collection of poetic thoughts. In 2006, Antonio Gamoneda was awarded the highest honor in Spanish and Portuguese language poetry - Premio Reina Sofía de poesía Iberoamericana and the same year his was awarded the highest literary honor in Spanish language - the Premio Cervantes, which is considered the Spanish Nobel prize. Gamoneda is also a notable translator of poetry. He has translated works by Nazim Hikmet and Stephan Mallarmé into Castilian. Since 1980, Antonio Gamoneda has headed the Sierra-Pambley Foundation, founded in 1877, which thrives to educate ordinary workers and peasants.Bengali poet Subhro Bandopadhyay met Gamoneda in the summer of 2007 during his trip to Spain on a translation project. The present interview was conducted at that time in Madrid.
Subhro: According to José Antonio Expósito, who, as I understand is a distinguished Gamoneda scholar, your poetry is dark and preserved this darkness until the publication of Cecilia...
Gamoneda: Yes. I remember. José Antonio did his PhD on my poetry. He has a right to say so. I would say, in general, many of my critics have mentioned that - the dark nature of poetry. I don't think I can help it or there is anything I can do about it. You could certainly say that my poetry is bitter and dark.
Subhro: And this darkness provoked you to win over another cliché. Of symbols. Your work has opened up many avenues of newer symbolistic use in Spanish poetry.
Gamoneda: Well, as a reader, you can say it better than me. I cannot say anything about my own work. The only thing I would say is - yes, there are certain incidents in my life which did literally change my vision - led me to a new world. A very new world.
Subhro: And that new world is a world of symbols ?
Gamoneda: May be, I have seen something which was new and strange at once. And, you know, I think I had internalized it.
Subhro: As Miguel Casado had pointed out that specific point of interiorización in his epilogue to your collected poems - Esta luz (This light)
Gamoneda: ...... (just smiles )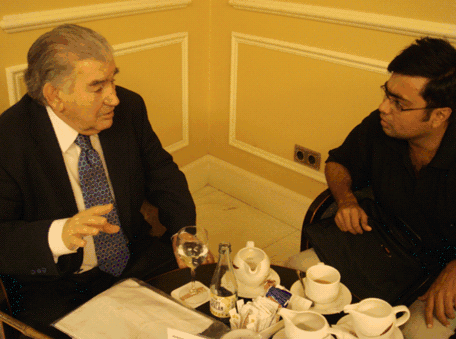 Antonio Gamoneda in conversation with Subhro Bandopadhyay
Subhro: I wonder if this "strange and new thing" is disappearance and pain. You seem to have used a whole suite of new motifs & images to describe that.
Gamoneda: You see, I was surrounded by disappearance and emptiness all my life. All along. Used clothes were the best of things available to me. And that does serve as effective imagery at times. I had to use it to describe the state of things.
Subhro: What about these lines -

In the eyes the noise
of pain converts itself
into a music so pure
it can't be heard


Gamoneda: ... (all smiles again) You seem to have read a lot of my poems...we have reached our destination dear, maybe some other day we'll continue the discussion.
Subhro: OK, one last question. A quick one. Do you want to make a suggestion for young poets?
Gamoneda: Yes, maybe one for now. Write only in your own language. In your mother tongue, I mean.
-----X-----