Kamal Chakraborty

Kamal Chakrabarty's (b. 1946) is a magician in one word - simultaneously as a poet, writer, editor, compiler, community developer and an unmistakable dreamer of the impossible. He is one charismatic visionary, who, as a poet, novelist and popular prose writer, could simultaneously straddle the mainstream Kolkata-centric Bangla literary circles and the lesser known niches of alternative literature. Kamal's poetry brought to life the experiences of a small town. In its language, his poetry voiced the richly layered language fabric of tribal Singbhum. "TataBaba", one of his early poems, is a popular adivasi folk song in Singbhum today. At the same time his poetry has a magical, fantastic dreamlike urbanity about it.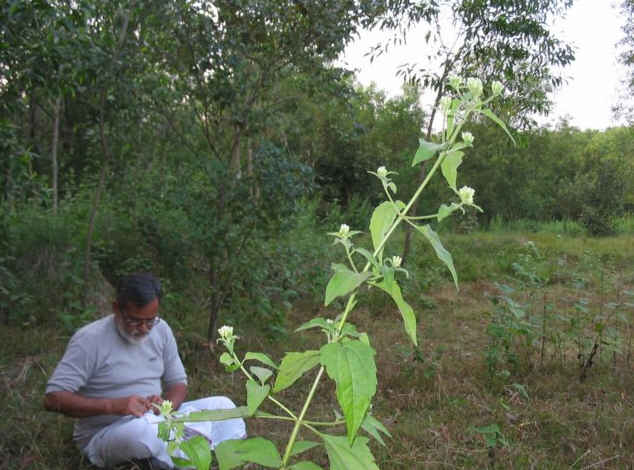 Kamal, the farmer - at Bhalopahar, nursing a weak sapling. The 100-acre forest he has grown in an arid wasteland with support from other Kaurab poets and their patrons stand in the background.

Mithye Kathaa (Lies, 1978) is Kamal's most talked about book of poems. His prose, also stylistically urban, constitute "thick descriptions" (as used by Clifford Geertz to describe his method of detailed analysis of an anthropological context by immersing himself in it) of communities and cultures rarely visited in Bangla literature. Kamal has authored more than a score of poetry anthologies and novels, has won several awards as a leading writer of non-mainstream Bangla literature and enjoys the rare distinction of being the first Indian novelist whose work was serialized on the internet.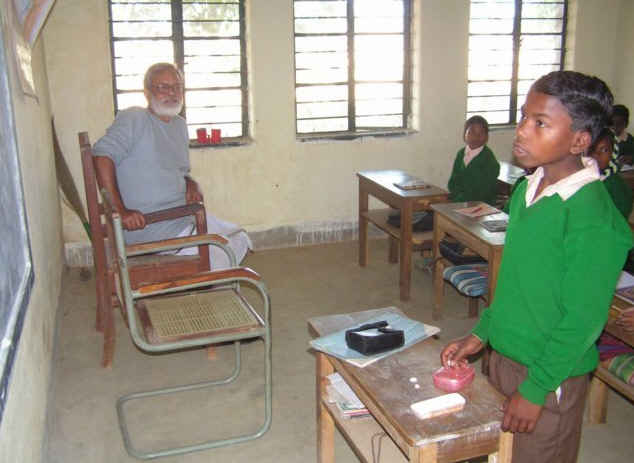 Kamal, as a school teacher - at Bhalopahar, teaching Bengali language to young tribal children.

Kamal Chakraborty is also a social worker with a difference. His work in this sphere is quite unparallel. He, with support of other writers and patrons of the Kaurab group, converted 100 acres of arid waste land into BHALOPAHAR – a afforested, self-sufficient village for the hopelessly poor local tribals. Bhalopahar has also become an writer's colony where poetry workshops and camps are conducted on a regular basis.
POEMS
Dial 'M' for Life

Dial capital M when you want me no more
Bed tea or telephone in hand how I look nice
into the newspaper the hawker tossed in
from a bicycle passing down below.
Actually thrown up with the morning
when I should wake up to a steaming cup of tea

With this knowledge you went to confront death,
May be I too, that it was capital M
all so important to dial for death one day
a dark phone in hand. Oh ! Great !
Plain and candid trunk-called sex to an easy reach
Lovelier than holding a cigarette.
A phone in hand suits me better than many
After capital M scrolled back for one last time.



One Day in Nude Colony

Noise from the saw mill has stopped.
Sounds like lighting up blue overalls
has stopped. On fistful cocaine
insects are filing in since evening
. The saucepans held by the girls under midnight sky
are full with air waving over glowing charcoal.
The only physical sound of the keeper's boots
echo down from the north hill.

Drums came filled with gunpowder
Tanned nudes with explosive heads
are dancing on nocturnal tunes.
Bats fly ripping slack tissues of male
And stale tea came steaming back on womenfolk
Bright nudes from the colony came embracing
In last leave, sex rolling down in tears.
Good bye, ladies.



Citizen

We are held in a city of high esteem.
Right from palace front to the terrible lanes
One can easily wear its winter
where pranky heat is but normal.
We use our culture in grace
Look at history
paint, write, compose and die.

Sprawling and bouncing this city
is taken for ride in double standard
along timely boulevard.
They are cooking stories from physical science
Writing dictionaries and drumming up life
integrating birth and youth by a single formula.
We heard thousands of bolts resounding marriages
and tiers of beds emptied in slender light.

In this esteemed city
Inside regions and empty space
children play an oblivion of perfumes
Drains flow over tender gems
Lets run a single electric wire
between life and death.



Mousetrap

Mousetrap in hand you shall stand
in the dark kitchen again in summer
On light, caressed feet you alone shall alight from bed
and go on hesitating
Posture of a native boy throwing stones far from a virgin land,
Or like an empty sky once boiling rubber puffed up in full
With the trap in hand confident you are walking
On new embankment in the cornfield

Moonlight clattering again on broken bronze
As if a night of expression is fading out, sound grows
with silent anklet and tiara.
Anklet bells, empty mousetrap lie in the field
Who then went into the kitchen
Laughing in the dark
ran up to the magic garden.



Dressing

From a piece of bread beside that broken gear
Woke up my country, the Republic of India.
Red alert of dawn, crowing partner of wind
Obeisant are beautiful girls over feet of a part-time ascetic
You show me the way that led to the bread pieces.
Sky-faring forging shops
Say chisel, it blooms ten kinds of delicate flowers
On tip of twirled dhoti of the foreman
Flying in will settle the rain-ants.

The little Brahmin fellow weak from meager meal
is now resting after bellowing a lot. Who will light
his evening lamp ? Who else will chant
Radha-Kesto by name?
On dusty floor of the coal store one after another
Are lying my weakly country.
Weak-salary India.
Warm swaying, bright, conscious…..how lovely !
How lovely…..ripping, dress of flying bird !



Adulterous

After me only another man did love the forest
Got acquainted with him
Not really acquaintance
Where he had planted a Barringtonia
The native girl was sleeping alone under it
Near her were seen left-over ham-bread,
Note book, time table,
could not get any farther.
No lead after that
An oldie world hung in void
Stretching both L and R knees the native girl slept again.

But me another man loved this forest
The girl been his epitaph
Around that soft epitaph stood dark Barringtonia
Learned about him just today
Knew not exactly,
Found the red and blue balls scattered in air.



All poems translated by Barin Ghosal
-----X-----